Last Updated on 20/05/2023 by Singapore You
Tuition Centres Ranking Summary
Preparing for a crucial exam as a student can be overwhelming, but don't worry, the best tuition centres in Singapore can help you achieve success. Instead of studying alone, consider enrolling in one of the top tuition centres in Singapore to increase your chances of acing your exams.
Not only will you have access to excellent teachers, but you'll also be surrounded by peers who share your goal of success. With so many tuition centres available, it can be difficult to choose the right one. That's why we've carefully selected only the best centres with top-notch teachers, a conducive learning environment, excellent facilities, and positive reviews from past students.
Don't hesitate, to choose one of the best tuition centres in Singapore and pass your exams with flying colours.
1. The Pique Lab
Website | +65-8621-1533 | [email protected] | Facebook | 10 JIn Serene, #02-20 Serene Centre, Singapore 258748
The Pique Lab is a premier, private enrichment centre focused on the delivery of interactive Science programs for primary school students. It was created with a focus on creating an encouraging & supportive learning environment for primary school children.
Led by a team of primary school education specialists, we do what we do because we want to empower students with the skills to understand the subject and help them maintain a competitive edge over their peers. Using our proven Complete Concept Integration™ (CCI) methodology, we have helped thousands of primary school students across 78 different primary schools achieve extraordinary academic results in Science.
2. The Pi Lab
Website | +65-9296-5840 | [email protected] | Facebook | 10 Jalan Serene, #02-05A/17A/18/20*, Serene Centre, Singapore 258748
The Pi Lab is a premier private enrichment centre that focuses on helping primary & secondary school students nurture their love for learning Mathematics.
Over at The Pi Lab, they focus on creating the best learning experiences for secondary school students.
They use relevant data and research in their approach when formulating their learning methodology. More notably, they are very proud that this has helped to catalyse fast improvements in Mathematics for many students in a short span of time.
3. The Classroom
Website | +65-6385-3846 | [email protected] | Facebook | 806 Hougang Central, #04-154, Singapore 530806
At The Classroom, they use a tested and proven system that simplifies the learning process for Primary & Secondary school students.
This helps students solidify their learning, allowing them to not only achieve better grades, but also boosts their confidence levels before sitting for each exam.
This system is the result of over 10 years and 10,000 hours of teaching by our team of education specialists, backed by consistent results achieved by our students over the years.
It has helped roughly 1500 students, jump 2 – 4 grades minimally, in under 6 months.
What this means is that once your child join us, he will be put through the exact same system that has been jump multiple grades year after year after year!
4. MLC Education
Website | +65-8188-3063 | [email protected] | Facebook | 604 Senja Rd, Singapore 670604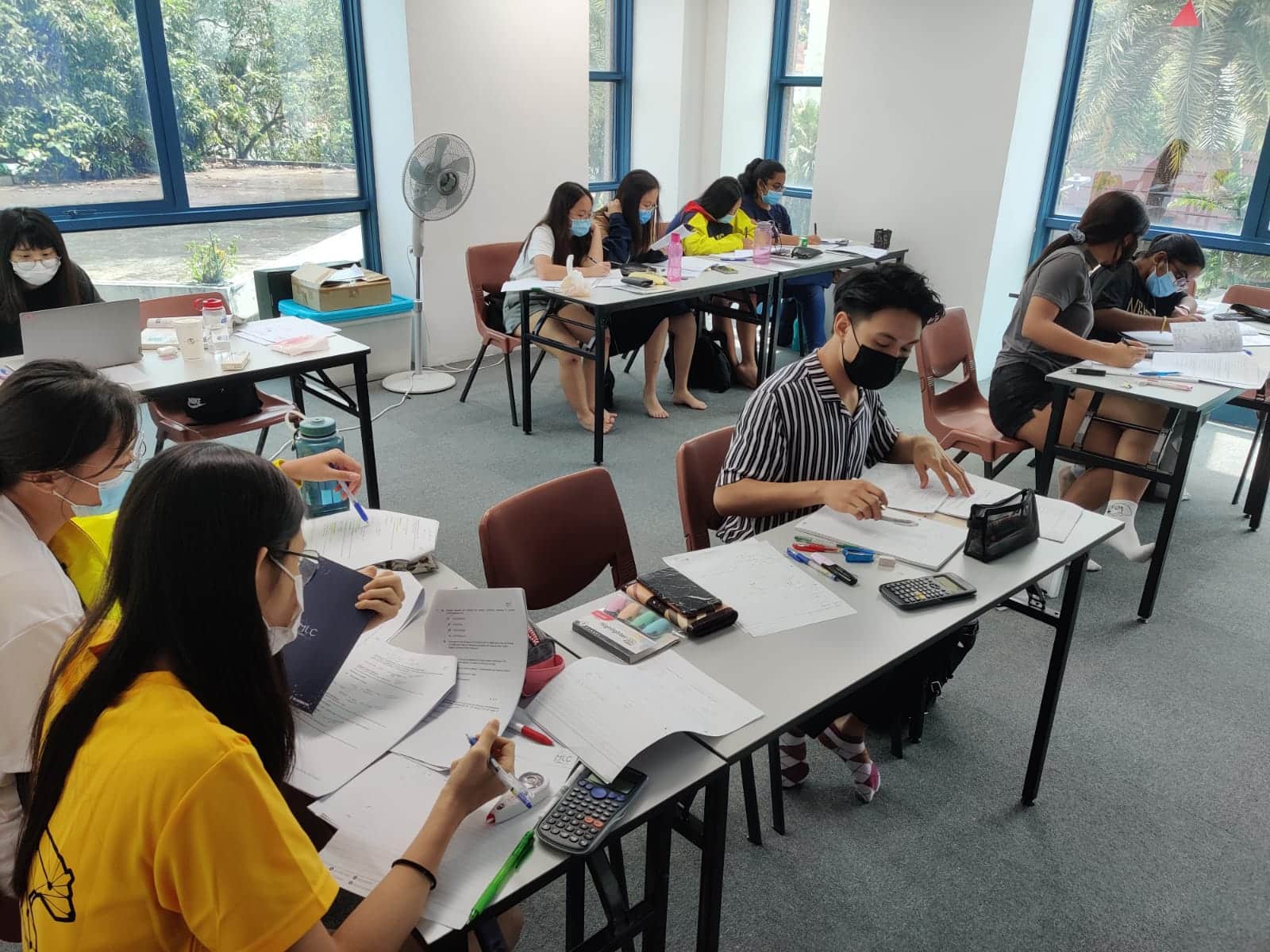 MLC is Singapore's leading Chemistry Tuition Specialist for both 'O' & 'A' Level Chemsitry with our proprietary 'Targeted Effifcacy Approach' to help students learn and score. We can help Make Chemistry Simple Again!
Their programs are designed to help students master key concepts and develop essential skills needed to excel in their Chemistry exams.
Led by a team of experienced and highly-qualified Chemistry tutors, they provide personalized attention and support to each student to help them achieve their academic goals.
5. EduFirst Learning Centre
Website | +65-9106-7716 | [email protected] | Facebook | 1 NorthPoint Dr, #02-164 Northpoint, South Wing, Singapore 768019
Enrol your child at EduFirst Learning Centre for top-notch academic growth. The tutors at EduFirst customize their materials to fit each student's unique needs and learning abilities, regardless of age.
Don't hesitate to seek additional help – trust the best tutors at EduFirst Learning Centre.
6. AGrader Learning Centre
Website | +65-6737-0096 | [email protected] | Facebook | 31 Woodlands Ave 6, #03-01 Galaxy Community Centre, Singapore 738991
AGrader Learning Centre, established in 2013, is a reputable chain of tuition centres in Singapore, providing high-quality education and enrichment programs in English, Mathematics, Science, and Creative Writing for students at the pre-primary, primary, and secondary levels.
With over 15 locations island-wide, classes are kept small with a maximum of 12 students per class. To date, AGrader has helped more than 20,000 students achieve an improvement rate of 83.4% without pre-selecting students. You can find hundreds of positive reviews on their website https://www.agrader.sg/reviews.
In addition to regular weekly classes, AGrader also offers the proprietary EverLoop Improvement System, which allows students to access extra worksheets, and comprehensive learning videos and attend additional revision sessions in person or from home.
As a bonus, all enrolled students have unlimited access to extra learning resources for up to 3 previous levels, including worksheets, exam-oriented questions, and learning videos.
7. The Learning Board
Website | +65-9271-0648 | [email protected] | Facebook | Kembangan Court 5 Jalan Masjid #01-14 Singapore 418924
The Learning Board is a specialized English language centre that focuses on improving the communication skills of its students at all levels. The centre aims to rekindle students' interest in learning by providing engaging lessons that are tailored to their needs.
To supplement their instruction, The Learning Board incorporates SMART Sheets, which are single pages that cover difficult concepts, into their lessons. This is a helpful tool for the students. Their packages include activities such as worksheets and group discussions that are designed to improve grades in the subject.
Additionally, students are given exams to assess their comprehension and writing skills. The Learning Board offers its services to primary and secondary students and has special programs for students who wish to achieve specific academic goals.
8. Masterclass
Website | +65-8820-7415 | [email protected] | Instagram | ​​222A Upper Thomson Rd, Singapore 574354
Masterclass Pte Ltd can help improve your child's critical thinking skills. They offer a comprehensive program that not only focuses on academics but also on socialization and other important life skills. With experienced and adaptable tutors who have expertise in various academic levels, you can be sure that your child is in good hands with Masterclass Pte Ltd.
9. Physics Math Cafe
Website | +65-9100-1235 | [email protected] | Facebook | Bukit Timah Shopping Centre, 170 Upper Bukit Timah Road, #18-01 Singapore 588179
The Physics Cafe is a respected tuition centre in Singapore that specializes in Physics and Math. They have built a reputation over the past 10 years and have been recognized by numerous publications in the country. With four different branches located throughout Singapore, students can trust that the teaching style and pedagogy will be consistent across all locations.
The Physics Cafe is also dedicated to providing students with only the best quality and top-notch review materials, supported by their exceptional team of tutors.
10. School of Language and Communication
Website | +65-9058-2091 | [email protected] | Facebook | ​​151 Bishan Street 11 #01-191, Singapore 570151
The School of Language and Communication was founded to promote the use of English and Mandarin. They specialize in teaching these languages, but also offer a range of other courses, such as Digital Journalism and Creative Writing.
This tuition centre is ideal for those looking to learn languages in different fields.
11. SmartLab Education Centre
Website | +65-6459-2351 | [email protected] | Facebook | Blk 228 Bishan Street 23 #B1-71 Singapore 570228
SmartLab guarantees their students the results they deserve or their money back. This tuition centre caters to a wide range of students from primary to junior college and offers classes in Math, Science, Chemistry, Biology, and Physics. They are proud of their students' outstanding results, and the success rate has been increasing each year.
In 2015, 100% of their math students improved by 2 grades or more. To ensure the quality of their service, SmartLab hires only the best tutors in Singapore and provides the centre with credible and exceptional learning resources.
12. Nanyang Learning Private
Website | +65-8298-7978 | [email protected] | Facebook | 5008 Ang Mo Kio Avenue 5  #04-09 Techplace II, Singapore 569874
Nanyang Learning Private Limited is a well-respected tuition centre in Singapore, dedicated to providing superior quality tutoring services. They have a variety of experienced tutors who are suitable for different education levels and are able to meet the tutoring needs of their students.
Additionally, Nanyang Learning Private Limited offers personalized private lessons, allowing the tutor to give undivided attention to the academic needs of the student. These lessons can also be done as an after-school program in the student's home.
13. Brain Matter
Website | +65-9791-1234 | [email protected] | Facebook | Block 501 Bishan Street 11 #01-364 Singapore 570501
Brain Matter is a great choice for parents looking for a small class size for their children. They limit their class size to no more than 5 students to ensure that teachers can provide personalized guidance and give full attention to each student.
The centre also provides weekly online feedback to parents so they can easily track their child's progress. Brain Matter offers a variety of subject tuition classes to help students excel in subjects such as English, Math, Science, Physics, Literature, and History.
14. Lighthouse Tuition Centre
Website | +65-8692-1201 | [email protected] | Facebook | 150 Changi Road Guthrie Building #02-02 Singapore 419973
Lighthouse Tuition Centre is an educational service that offers Islamic and academic lessons for supplementary knowledge that will help students succeed in the real world. The classroom is equipped with air-conditioning, a whiteboard and markers, a projector, and a sound system to enhance the learning experience.
The centre is conveniently located just 5 minutes away from Geylang Serai Market, making it easy to grab a bite during breaks.