Last Updated on 02/05/2023 by Singapore You
Looking for the perfect piece of jewelry in Singapore? Look no further than these 10 top-rated jewelry stores. From customized wedding bands to unique gemstones and pearls, these stores offer high-quality, beautifully crafted pieces for any occasion. Whether you're a fan of traditional designs or contemporary styles, these jewelers have something for everyone.
Best Jewelry Stores You Can Find in Singapore
1.  Poh Heng
Website | 1 Sengkang Square, #01-02 Singapore 545078 | +65-6388-9559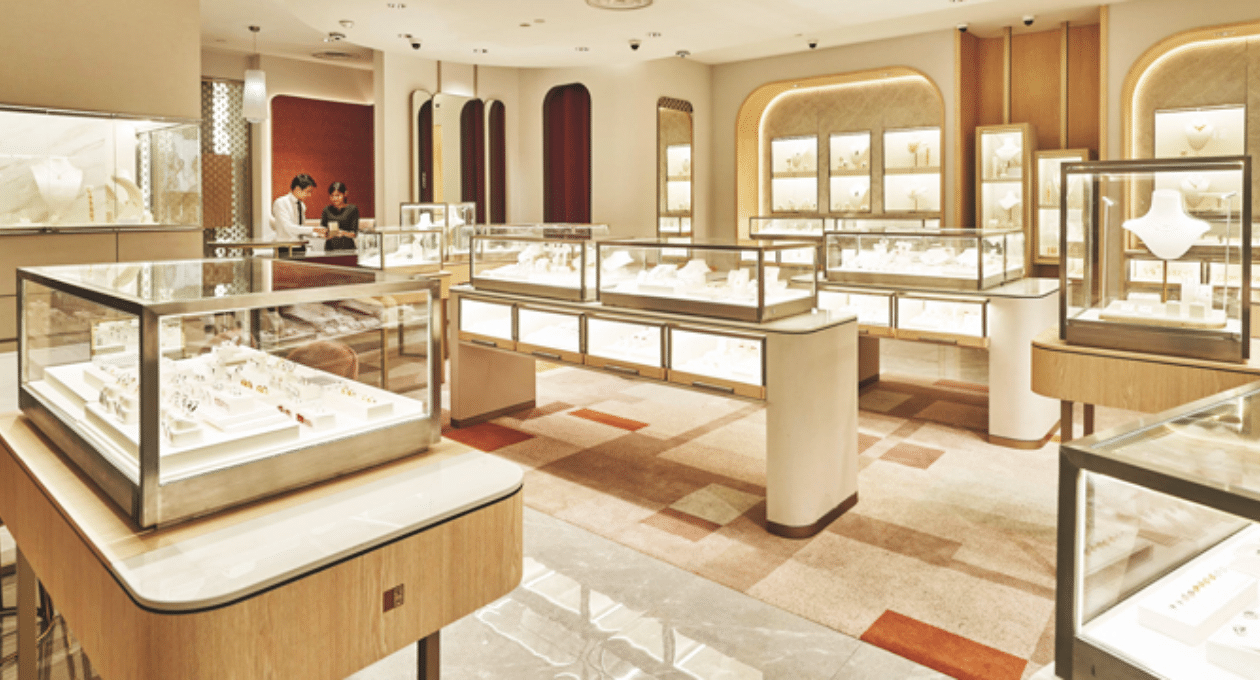 Poh Heng designs jewelry collections that draw inspiration from Chinese culture, resulting in carefully crafted pieces that pay homage to various customs and traditions – including those believed to bring luck and prosperity. They offer a wide variety of jewelry including anklets, earrings, pendants, bracelets, rings, necklaces, and more. Additionally, they offer specialized collections for engagements and weddings.
2.  Flower Diamond
Website | 391 Orchard Rd, #03-02, Takashimaya Shopping Centre, Ngee Ann City, Singapore 238872 | +65-6734-1221
Flower Diamond is one of the well-established and highly reputable jewelry stores in Singapore, renowned for its luxurious and refined designs. The shop has earned recognition from esteemed international artists and royalty alike. The Butterfly Collection, synonymous with femininity and grace, is one of their most popular lines. In addition to this, they offer an extensive range of other collections including wedding and engagement rings, gifts and a collection inspired by the iconic Merlion.
3.  Far East Gems and Jewellery
Website | 26 Kandahar, Level 3, Singapore 198888 | +65-6734-3172 | [email protected]
Far East Gems Jewellery boasts the finest gemstones in Singapore, thanks to their collaboration with gemologists who possess their own laboratory for certifying the authenticity and quality of the gems used in their accessories. Every detail is carefully considered and no imperfections are present in their final products, ensuring that the raw materials used maintain their high-grade quality throughout the production process. They also have a private museum showcasing impeccably preserved and stunning stones that are sure to leave a lasting impression.
4.  eClarity
Website | 391B Orchard Road, #21-05A Ngee Ann City Tower B, Singapore 238874 | +65-9833-1220 | [email protected]
eClarity offers a broad selection of options, including custom band designs and wholesale options, all of which are of exceptional quality. As a global seller of jewelry, with a presence in Asia, the United States, and Australia, eClarity has established a reputation for excellent service and craftsmanship through its captivating designs. Established in 2005, eClarity's business has seen steady growth since its founding in the early 2000s, making it a standout shop and its products among the finest in the market.
5.  Orient Jewellers
Website | 177 Toa Payoh Central, #01-164/66, Singapore 310177 | +65-6253-3032 | [email protected]
Gold is often associated with love, passion and royalty, and Orient Jewellers ensures that each piece of precious metal lives up to its reputation. Founded in the early 1970s, this shop has been consistently creating stunning gold accessories that are truly breathtaking and worth every penny. However, if gold isn't your preference, Orient Jewellers also offers an array of items crafted from precious gems like Jade and Pearls that are sure to catch your eye. Additionally, they have a line of bespoke jewelry named Orient Ateliers that features unique designs crafted with precious stones.
6.  Carrie K. Jewellery
Website | 111 Middle Rd, #02-02 National Design Centre, Singapore 188969 | +65-9061-2880
If you're a fan of pearls over diamonds, Carrie K. is the perfect jewelry shop for you in Singapore. They offer a wide variety of pearl options, showcasing that pearl accessories are not limited to formal and luxurious events but are also suitable for everyday wear. They also provide customization services for wedding rings, so you can have a unique design that reflects your personal style. Additionally, they offer heirloom revival services, which can help restore and enhance the style, colour, and quality of a ring that has been passed down through several generations.
7. The King's Bespoke
Website | 26 Kandahar St., Level 3, Singapore 198888 | +65-6734-3172 | [email protected]
The King's Bespoke, a brand under the Far East Gem Group, has established a reputation for authenticity, quality, and beauty in the realm of precious gems, thanks to their gemological expertise and extensive global sourcing experience. They utilize their private museum, The Gem Museum, to offer customers a deeper understanding and appreciation of the beauty and rarity of gemstones, helping them make informed decisions about the quality of the service and jewelry they are receiving. With this comprehensive approach, The King's Bespoke has been able to consistently assist customers in obtaining finer quality jewelry. Why not visit their shop and experience it for yourself?
8. Empire Treasures
Website | Scotts Square, 6 Scotts Road, #01-11, Singapore 228209 | +65-8879-8888 | [email protected]
Empire Treasures presents a collection of luxurious jewelry in Asia, crafted from the world's most superior precious stones. The founder of Empire Treasures travels the globe to personally source and hand-select the finest Burmese gemstones, characterized by their exceptional value and rare colours. The shop employs a team of highly-skilled jewelry designers and craftsmen, who transform these gemstones into classic, elegant and one-of-a-kind masterpieces. Empire Treasures believes that every piece, whether personalized or ready-made, should reflect the owner's unique experience and they strive to convey their customer's story through the gemstones in their own unique styles.
9. On Cheong Jewellery
Website | HQ: 251 South Bridge Road, Singapore 058800 | +65-6223-4788
On Cheong Jewellery first opened its doors to the public in 1936 and since then, it has grown to become one of the largest and most reputable jewelry brands in Singapore. The brand is known for its commitment to providing high-quality jewelry pieces to its clients. On Cheong places a strong emphasis on unique designs and genuine customer-merchant partnerships. Their team goes above and beyond in servicing clients which results in a high level of customer satisfaction. In addition, On Cheong has received numerous accolades over the years, including the Singapore Quality Class (SQC) with People and Service niche, Singapore Health Award 2019, and SRA Platinum ACE Award for Luxury Watches/Jewelry in 2018.
10. Azen Jewelry
Website | 350 Orchard Road Shaw House Level 2, Jewelry Department | [email protected]
Azen Jewelry offers a collection of jewelry that features simple, contemporary designs that will appeal to any taste or style. By working closely with their artisans, Azen Jewelry guarantees both quality and aesthetics, while also accentuating the distinctiveness of the precious stones used in their jewelry pieces. Additionally, Azen Jewelry is the exclusive distributor of Gemstone Jewellery, a brand that is recognized for its handcrafted pieces.