Last Updated on 25/03/2023 by Singapore You
Are you considering investing in a reliable foldable bicycle to avoid crowded public transportation? Look no further as we have curated a selection of the finest folding bikes in our Brompton bike Singapore price list.
These bicycles are both lightweight and durable, guaranteeing longevity for years. Moreover, we have prepared a guide to assist you in selecting the appropriate folding bike that meets your requirements.
Let's begin!
What To Consider When Getting A Folding Bike In Singapore
It's important to remember that purchasing a folding bike is an investment and you'll want to select a bike that will last. With so many options in the market, it can be challenging to pick the right one if you're not familiar with what you need.
To help you out, we've compiled a list of things to keep in mind when selecting a quality folding bike.
1. Consider Your Riding Style
Think about the kind of travel you'll be doing with your bike, such as commuting, urban riding, trekking, leisure riding, or touring. You should also invest in good quality parts, like a comfortable saddle, from the start.
2. Wheel Size Matters
Wheel size is a crucial factor when choosing a folding bike in Singapore as it affects portability and riding. Ensure the wheels are easy to replace and fit well, avoiding overly large or loose wheels that could cause issues.
3. Think About Portability
If you plan to bring your bike on public transportation or in different vehicles, consider easy-folding bikes. Not all folding bikes fold with the same ease.
4. Focus on Design
Choose a bike with high-quality components for optimal performance and longevity. Select function over looks as ease of folding should be the top priority.
5. Check for Warranty
Look for bikes with a good warranty to ensure you can easily obtain a repair or replacement if needed.
Investing in a good folding bike that meets your needs can be overwhelming, but by considering the above factors, you'll be able to make a more informed decision.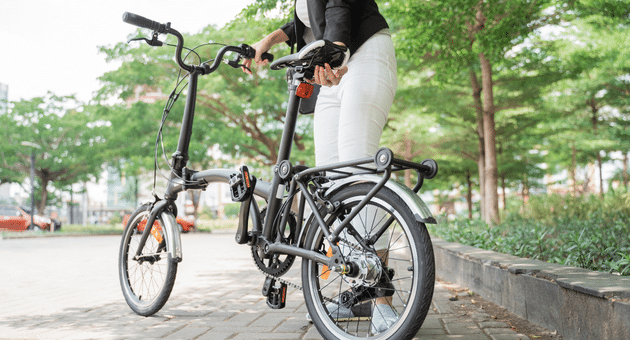 1. Bolt Classic Foldable Bike
If you're seeking a lightweight and portable folding bike, the Bolt Classic Foldable Bike might be the perfect option. With a maximum length of 83 cm when folded, it's easy to carry on public transportation or store in a car. Weighing only 14.8 kg due to its superlight aluminium alloy composition, this bike is a breeze to carry while travelling or taking a break from cycling.
You'll appreciate the comfortable seat and ergonomic design that makes it unnecessary to dismount. Additionally, the Littoria Comfort™ tires and Toretto Smooth Speed™ Drivetrain make this the best folding bike in Singapore for an effortless riding experience.
What's even better is that all these excellent features come at an affordable price. To take advantage of a significant discount, be sure to pre-order this bike from their website.
2. Decathlon Tilt 500 20″ Folding Bike
One of the top folding bikes in Singapore is the affordable, versatile bike from Decathlon. It can be used for weekday commutes or weekend rides, thanks to its easy folding and unfolding mechanism, lightweight build, and 7-speed capabilities.
The bike comes with a lifetime warranty on the frame, stem (excluding the hinge), rigid fork, and handlebar, providing added peace of mind to riders.
The compact design of this folding bike makes it a top choice among commuters and riders who want a bike that can easily be transported and stored. Overall, the Decathlon folding bike is an excellent option for anyone looking for a reliable, affordable, and versatile folding bike.
3. Brompton M6L
For countryside commutes, the Brompton M6L folding bike is an ideal choice. The M-type handlebar offers a comfortable, upright riding position, while the compact design and 6 gears cater to all riding needs, including hilly areas.
The bike's mudguards are a useful feature for rainy days, and it even comes with a battery-powered light that can be charged for emergencies.
Overall, the Brompton M6L folding bike is the top choice for those who enjoy off-road and hilly rides, making it the best folding bike in Singapore for this purpose.
4. Schwinn Adapt
The Schwinn Adapt is a versatile folding bike that can be used for recreational purposes or commuting. As one of the more well-known bicycle brands, Schwinn delivers quality and reliability.
The lightweight alloy frame and folding design make it easy to carry anywhere, while the 7-speed capabilities provide a smooth and comfortable ride.
In addition to its performance, the Schwinn Adapt also comes equipped with full-wrap fenders and reflective sidewalls, ensuring visibility during nighttime rides. As such, this is the top choice for those in need of a folding bike for work-related nighttime commutes in Singapore.
5. DF-812G Mountain Folding Bike
Change Bike has revolutionized the cycling industry with its innovative approach to full-sized folding bikes. The result is a range of bikes that are lighter, sturdier, and more portable than traditional folding bikes.
The DF-812G Mountain Folding Bike is a particularly popular design, suitable for serious cyclists seeking a reliable and efficient mountain bike. The bike is also easy to transport, making it perfect for any adventure.
Available in sleek black or darker green, the DF-812G is a sound investment. If you're an adventurer who loves exploring off the beaten path, this is the ultimate folding bike in Singapore for you!
6. Tern Eclipse D16
The Tern D16 Eclipse is a standout folding bike in Singapore, thanks to its unique folding technology that allows it to fit into tight spaces. With full-sized 26″ wheels, adjustable handlebars, a height-adjustable stem, and hydraulic disc brakes, this bike can be customized to fit any rider's needs.
Additionally, the Tern D16 Eclipse comes with optional fenders for rainy days and is lightweight, allowing for easy folding and unfolding. With its exceptional features, this bike is undeniably one of the best folding bikes in Singapore.
7. EuroMini Zizzo 2019 Campo
The EuroMini Zizzo 2019 Campo is a lightweight folding bike that features genuine Shimano components with 7 speeds and a grip-style shifter. This bike can be easily folded and taken with you anywhere.
The catch frame of the bike is magnetic, making it simple to fold and store, and it also comes with folding pedals. The aluminium alloy speed brakes provide enough stopping power for sharp turns and sudden stops.
For those in search of a lightweight folding bike, the EuroMini Zizzo 2019 Campo may be the best option in Singapore.
8. Hummingbird Electric Bike
Hummingbird has introduced their newest electric bike model, which is powered by an all-in-one system and can be controlled via the Bitride App. This bike is considered one of the best electric bikes on the market, allowing riders to travel faster and farther with less effort.
Not only is it highly functional, but it is also the lightest folding bike in the world, making it incredibly portable and easy to bring along anywhere you go. You can choose from five available colours or have your Hummingbird Electric bike customised to your desired colour for a truly personalized experience.
9. Helix Ultralight
The Helix Ultralight folding bike is an excellent option for those seeking a lightweight bike. Despite being under 25 lbs, depending on the drivetrain, this bike is equipped with some of the best components in the industry.
The lightweight wheelset, hydraulic brakes, and lighter crankset ensure an easy and safe biking experience. With derailleur models featuring a light drivetrain with 11 speeds, the Helix Ultralight also comes in an 11-speed Alfine model and a 1-speed model, with the latter being the lightest at around 19 lbs.
Despite its lightweight, this bike can accommodate up to 250 lbs of weight, making it strong enough to handle you and your cargo. Although pricier than most bikes, the Helix Ultralight's many features and lightweight design make it a worthwhile investment. With a 10-year warranty from the original retail purchaser, this bike is a reliable and durable option.
For those in search of a high-quality, lightweight folding bike and who have the budget for it, the Helix Ultralight is undoubtedly the best option in Singapore.